Allen Lambert Galleria at Brookfield Place
Brookfield Place (formerly BCE Place) is an office complex in downtown Toronto, Ontario, Canada, comprising the 2.1-hectare (5.2-acre) block bounded by Yonge Street, Wellington Street West, Bay Street, and Front Street. The complex contains 242,000 square meters (2,604,866 sq ft) of office space and consists of two towers, Bay Wellington Tower and TD Canada Trust Tower, linked by the six-story Allen Lambert Galleria. Brookfield Place is also the home of the Hockey Hall of Fame and serves as the headquarters for Brookfield Office Properties, which owns the Bay Wellington Tower section of the complex. The TD Tower section is owned by the Ontario Municipal Employees Retirement System through its subsidiary Oxford Properties.

Allen Lambert Galleria, sometimes described as the "crystal cathedral of commerce", is an atrium designed by Spanish architect Santiago Calatrava which connects Bay Street with Sam Pollock Square. The six-story high pedestrian thoroughfare is structured by eight freestanding supports on each side of the Galleria, which branch out into parabolic shapes evoking a forest canopy or a tree-lined avenue because of the presence of building facades along the sides of the structure.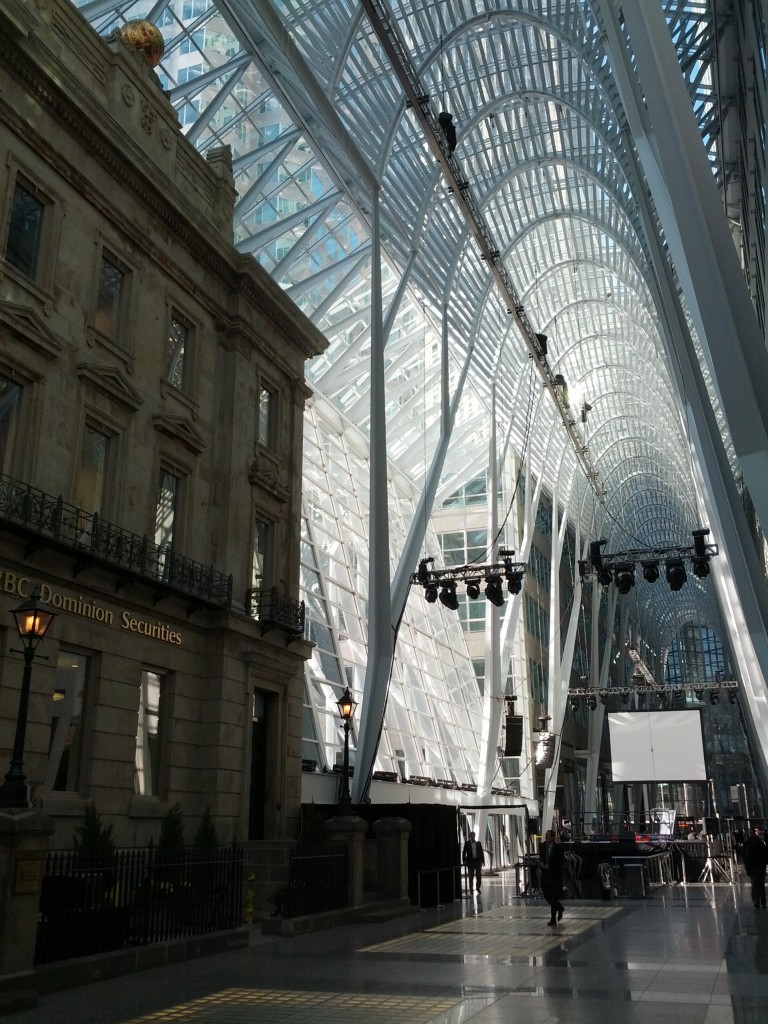 The Galleria was the result of an international competition and was incorporated into the development in order to satisfy the City of Toronto's public art requirements. It is a frequently photographed space and is heavily featured as a backdrop for news reports, as well as TV and film productions.
The parabolic, arched roof that Santiago Calatrava created for the assembly hall of the Wohlen High School in Wohlen, Aargau, Switzerland, is generally considered to be a precursor of the vaulted, parabolic ceiling in the Galleria.

(description from Wikipedia)
Vertical Panoramic…